Buddha statue is among the most popular home décor items. The statues are versatile and can be incorporated in to any house. The Buddha statues are also considered fortunate for any household. There are many sites and agencies who offer fiberglass Buddha statue for sale.  You need to find a proper agency that can offer you great designs within a reasonable budget. Plutus Art is the best choice for you.
We are offering satisfaction to our customers since 2010. We are among the leading manufacture, designer and exporter of fibreglass statues and figures. Our agency is a government certified agency with many talented artisans.  We source our products from the best producers and use only the best quality materials to design our statues and figures. You might be wondering that the fiberglass Buddha statue price is on the expensive side. But, that is not true. We offer the best price for the clients. Our products are reasonably priced so that every client can get a great deal.
The Buddha statues can mesmerise you at the first glance. These statues offer peaceful mind, tranquillity and a Zen feeling. Often Buddha statues are kept in home to usher good luck. Besides that, people also believe that the Buddha statues can keep you healthy and strong even in difficult situations. A simple statue can help you to relax and keep yourself away from anxiety and stress. The bonus point! The statues transform your room in an instant. So, if you want to get a Buddha statue for you home then contact us.
Plutus Art is synonymous to artistic designs and aesthetic appeal. We offer Buddha statues in different shapes and sizes. From a small miniature statue to a big one for your lawn- you can get any one from here.
The biggest benefits of consulting us are the variety. We offer a large variety of fibreglass Buddha statues for sale to our customers. We offer ten feet lord Buddha statue, thousand hands lord Buddha statue, Gandhar style statue. Chinese style Buddha statues etc. in different shapes and sizes. You can also choose the finish of the statue from us- glossy, black or metallic, golden, silver or brown finish. The choice is all yours. If you want to get a different statue then you can consider the meditating Buddha statue or artistic Buddha statue or sleeping Buddha staue. From a classic white statue to a black statue- you can choose any one as per your requirement. Your options are multiple.
We also offer different types of customisation for our clients. Hence, there are small statues and even ten feet and bigger ones. You can also ask for installation assistance from Plutus Art.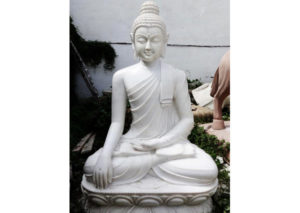 If you are wondering about the quality of the fibreglass then you can relax. Our fibreglass is of the best quality in the market. For those who are unsure about fibreglass statues, there are many benefits. Fiberglass statues are versatile and can be designed like a wooden sculpture or a stone sculpture or even a metal statue. The finish we provide mimics the original looks and lasts for a long time. Fiberglass is an easy to use material that can be moulded into flowy and beautiful designs easily. It is also lightweight and does not weigh a lot. Besides that, Fibreglass is long lasting and strong enough. It is also easy to install. Hence, you get a great statue that lasts for a decade with minimum maintenance.
You can contact us through our site to check the specimens and images of different small and large Fiberglass Buddha statue. We also offer free quotes to our clients with each specimen through online method. If you want customisation then please contact us so that we can serve you better.