While planning our interior and exterior decor, we all want to have something that will make our home or office stand out. The thought of buying a statue might come across your mind, but it often seems too cumbersome an idea. However, with fiber statues, you have an easy solution!
These statues are lighter than concrete sculptures, simple to clean, and on top of that, fiberglass is even more durable than concrete as well as more pleasing, aesthetically. There are many types of fiberglass statues available in USA and Canada such as fiberglass animal statues, fiberglass Shiva statues, FRP animal statues, fiberglass Buddha statues for sale, and so on.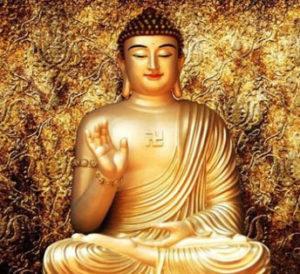 Fiber statues are trendy in interior and outdoor design as fiberglass is a great material using which finer statues can be sculpted with ease. Fiberglass reflects the shape and pattern of the mold with a lot of accuracies, and therefore the imagination or the idea behind the sculpture is portrayed very intricately.
Fiber statues are very versatile and can be used to enhance the beauty of all kinds of spaces, be it personal or professional. You can buy ready-made fiber statues as well as order customizable ones according to your own design. Fiberglass statues can be of whatever shape, size, form or color you want.
Besides customized fiber statues which you can get by sending the design and specifications to the manufacturer, there are some common types of fiber statues which are popular in the market:
1. Fiberglass Animal Statues / FRP animal statues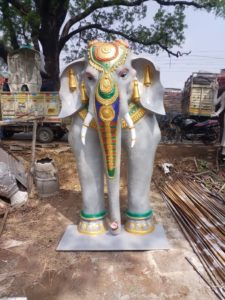 These are one of the top picks by customers. FRP or Fiber Reinforced Plastic material is the same thing as fiberglass. Medium and small-sized FRP animal sculptures made of fiberglass are great for use in children's parks or playgrounds, or in your child's bedroom in the house. Not only that, a majestic fiber sculpture of an elephant or a lion at the entrance of your house will completely change the look of your residence. Adding a fiber statue of a dancing peacock will compliment your garden or patio. You can think about all sorts of animal statues to place at different areas. Designers use fiber statues of different animals to bring out the mood or characteristic of a room or space.
2. Fiberglass Shiva Statues
Fiber statues of Shiva, the Hindu god, are one of the most commonly used Hindu sculptures for the purpose of worship or for decoration. For Shiva devotees, such a statue is a must-have. The dancing Nataraja (an avatar of Shiva) idol of Shiva is very famous. Such statues are works of art and are ideal for any household or office space as it represents powerful energy. If you are a Hindu, fiberglass Shiva statues are the best to keep as an idol for worship in your mandir or prayer room.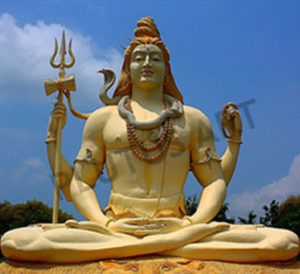 In addition to fiber statues of Shiva, fiberglass statues of other Hindu gods and goddesses, such as Vishnu, Ganesha, Durga, Laxmi, and Saraswati are also available. These are very popular in the idol-worshipping Hindu households. Hence these fiberglass idols are available and are in some demand.
3. Fiberglass Buddha Statues
In the market, you will definitely find fiberglass Buddha statues for sale. There are a few varieties available, such as the meditating Buddha, the laughing Buddha, and so on. The calm posture of the elegant Buddha will surely enhance the beauty of your place and it is also a symbol of peace and harmony. There are many varieties of fiber Buddha statues found in the market, so you have a lot of options to choose from.
4. Fiberglass Human forms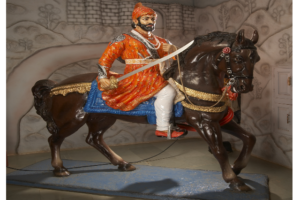 Fiberglass of human forms is also available. For example, fiber statues of famous men and women are placed at different venues. Since fiberglass can be rendered into very fine structures, hence the sculptures have high resemblance and are ideal for use. These statues are available in life-size forms, half-bust, and so on.
5. Fiberglass Miniatures
Besides large sculptures for your outdoor space, medium-sized fiber statues are also available for the interior decor of your house or workplace. Not only that, you can buy ready-made or order customized fiberglass miniatures and figurines of your choice. These can be anything- small idols of gods and goddesses, comic book figures, small animal miniatures, and so on.
Thus, fiber statues are excellent objects for private or public decoration. Only a few types of fiberglass statues are mentioned here, which are commonly bought – there are plenty more. Fiberglass is a highly versatile material for sculpting, and with greater imagination, more unique sculptures can be designed. You can either purchase them from a manufacturer, or depend upon a fiberglass artist, or sculpt your statue yourself if you are a sculptor. Either way, these statues are growing in popularity and is a great choice in interior and exterior decor today.