Decorate Your Pandals with Large Fiberglass Durga Idol
The relevance, love and respect for Durga throughout our multilingual and multicultural country is
quite strongly prevalent. Originating from the root word" durgam", Durga essentially signifies fearlessness. This essential mythological figure efficiently projects the idea of unshakable inner strength no matter how the atrocities are. It also shows that how success is a perfect combination of inner body and mind strength.
Goddess Durga rides a tiger that is  a perfect metaphor for how strength and your determination can lead you a long way and tame all the problems, be it small or major. Durga idols are worshipped throughout the country. And it is something so pure that you wish to do it always right. So, you surely want to ensure buying the Fiber Maa Durga Statue that delights your eyes with creative and artistic artworks.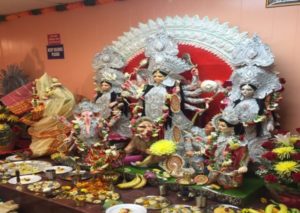 What makes the Fiberglass Durga Statues by Plutusart Stand Out?
Large Fiberglass Durga Idol definitely contributes to the elegance of the community Durga Puja. Fiberglass Durga Statues deal with innovation themes in tune with Bengali tradition and beyond that adds happiness, joy and ethnicity to the evergreen spirit of festivity. Every year, Maa Durga's temporary abode is painstakingly built following traditional principles despite imbibing modern themes.
Our Durga Idols are skill-fully curated that are made with authentic fiberglass. With our large Maa Durga idols, we make sure to stretch a helping hand in your procession. However, we deal in number of products but, our Fiberglass Durga statues and idols stand out. And do you know, what's the best part? The variety we offer at affordable rates is unquestionable.
In addition to this, we have a key feature that is a plus to fibreglasses constructing capability and that is the use of fiberglass is environment friendly and non-degradable in any way compared to the primitive POP method.
The Range of Products
Our variety extends from Fiberglass Akchali Maa Durga Statue, Fiberglass High-Quality Design Maa Durga Statue, Fiberglass Durga Statue in White and many more.
In the same space, we tend to offer a number of products which range from fiberglass statues, fiberglass sculptures, fiberglass God statues, fiberglass animal sculptures, fiberglass real-life sculptures, fiberglass abstract sculptures, fiberglass planters, fiberglass wedding gates and pillars, fiberglass Goddess Durga statues, fiberglass backdrop designs, fiberglass wall hangings, fiberglass indoor and outdoor fountain, among several others.
The Fiber Durga Idols aren't just visually amazing but also have symbolic meaning too. The idols captures moments where Maa Durga's spear pierces the chest of the wrongdoer Mahisha with blood droplets spilling. Another authentic moment projected in one of our idol is, how the lion was tamed by goddess Durga which actively participates in killing the Buffalo of Mahisha.
Standing on the periphery of Fiber Durga idol are small versions of Ganesh and Murugan. Ganesh is inclined in the "abhaya mudra" and holds a lotus, conch shell and an elephant goad. At feet there is his vehicle, Mooshika the rat. Murugan rests on the opposite side holding a bow and arrow. The vehicles of the god and goddesses form the base of the sculpture.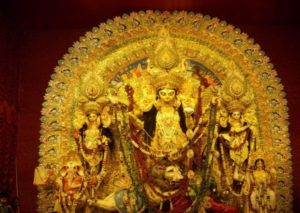 Why people love plutusart as their Fiber Durga Idol Providers?
Our range of Fiberglass Durga Statues essentially blends in with the traditional authenticity that goes into the artistic pandal making processes. The idols are decorated and painted with acute finesse, paying attention to minute details and one of the most essential features is how we strain our every nerve to make sure our idols light up your pandals giving you the aura of acute authenticity and spirituality around you. Blessed with a team of skilful professionals, our company has earned a name for itself as the leading manufacturer of fiberglass idols. With resistance at its peak, Fiberglass Durga Idols are resistant to salty water, moisture and mild acid.
We at plutusart.com, are strived to provide you with the best quality in the most affordable prices. Our
team of dedicated experts will be at your service 24/7, if you have any issues regarding the idol. Give us a chance to showcase our craftsmanship in the next Durga Puja. With our fiberglass Durga idol, people will definitely be in awe of the mesmeric creations of divinity.