Figurines and statues are a  great way of decorationg any home. There are different types of statues like metal figures, earthern figurines, terracotta items and  fiberglass items.  Fiberglass animal statues  are great if you love animals and want to provde your interois a sophisticated look.  You can contact us to get best quality Animal statues made from fiberglass within a reasonable budget.
The biggest benefits of fiberglass staues are that – these statues are versatile and long lasting. Fiberglass figurines last for long time and are corrosion free. Besides that, these statues are also lightweight and can be carried easily. Fiberglass statues can be of different sizes and shapes – from miniature to more than ten feet tall.
We use best quality materials to produce our figurines. The expert made  fiber animals for sale  are priced within the budget range so that everyone can buy from us.
If you want to decorate your room or keep a centre showpiece to create a focal point, then you can choose a medium sized or small sized fiber glass animal statue. These staues look great and can transform your home easily.
We offer different types of animal figurines. You can choose a horse or an elephant or even cats or lions as per your requirement. We also offer different looks like antique themed or glass themed animal statues to our clients.
We make sure each of our customers are satisfied with our product. Hecne, we keep a close eye on the quality control process and crafting process. We can also create custom made statues  as per your demand. You can contact us to consult the ideas and we will deliver the product to you.
Plutus Art is among the leading  frp animals suppliers  in India and the whole world. From idols of gods and goddesses to figures and statues- we do it all with extreme care and precision.
Our fiberglass animal statues are especially made to withstand accident related damages. So, if you have children in your home, consider getting an animal statue from us to decorate your home.
If you have a backwyard or a gardn then you can install frp animal figures from us. We offer bigger animal statues also. Our bigger animal statues are great for parks, playgrounds also. These animals are made of different sizes according to the demand.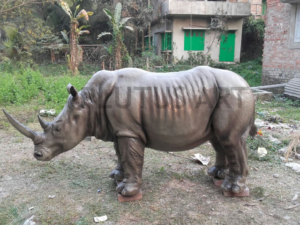 Not only animals , we alspo offer statues of popular movie characters amnd animated character figures in a reasonbabe budget. You can choose the products according to the demand. Our fiber made animals statues are in high demands. These statues are made according to the standard pictures and distinct styles- identical to the original image.
If you think about safety then you can relax. Plutus Art is always dedicated to the customers and aims to provide safest products to them. We make our products in such a way that it is stronger and better. So, you do not need to think about accidents and related damages. Out statues are made according to the guidelines- so nothing to worry here. In case you are wondering about the certificate, then let us assure you. We are certified from the government and all of our artists are also trained from reputed institutions and have enough experience.
If you want to buy good quality fiberglass statues then you can contct us through our website. Visit the website to check our specimen designs. You can select a statue you like and ask for a free quote – to be send to your email. If you want – you can contact us for customisation. We would offer you customised price  for  fiberglass animal sculptures as per your requirement. Feel free to contact us with all of your queries. We will provide you with the best service.